RESOURCES AND INFORMATION COVID-19
We are going virtual for the time being! We will continue to keep you up to date via the Government Advocacy Committee (GAC) on all new developments, assistance opportunities and news.
We also want to STAY CONNECTED with all of you, we are a family! We miss seeing your smiling faces around town, and at our luncheons and After Hours.
If there is anything I can do for you, please do not hesitate to reach out. The Chamber is here to serve our members.
We wish you all well, stay safe and healthy!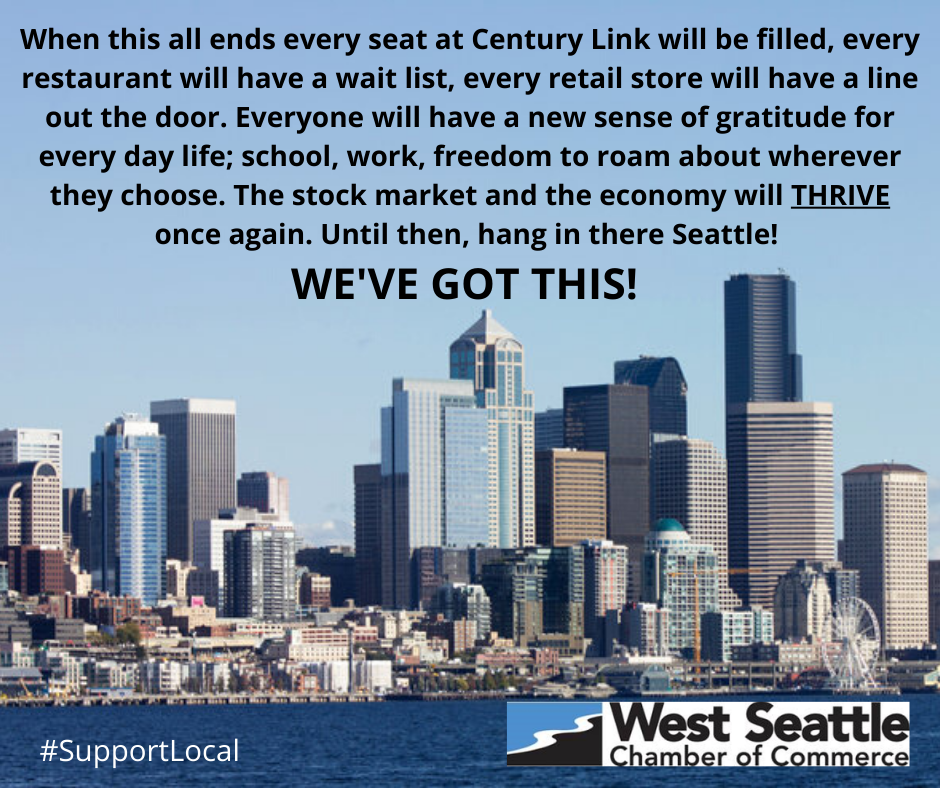 We have gathered a roundup of public and private resources for employers impacted by the COVID-19 pandemic, including federal disaster loans, easier access to unemployment benefits and grants in the Seattle area.
(sources; AWB, CDC, Whitehouse.GOV, King County, City of Seattle- OED and Port of Seattle) 
Finances
Loans/Assistance
Tax Help
Help to pay your employees
The Employment Security Department has new emergency rules in place. For example, workers who are ill with COVID-19 can qualify for benefits. Also, workers that are exposed and quarantined while the business remains open can now qualify for unemployment insurance. This ESD Unemployment chart can help determine which benefit applies to your situation. This FAQ page for workers and businesses answers questions and gives resources to help relieve the burden of temporary layoffs.
Small Business
Layoffs
Guidance
Temporary layoffs
Apply for SharedWork, a smart alternative to layoffs
Temporary layoffs: Standby for up to 8 weeks, partial employment status or furlough
Permanent layoffs
Business Preparation
Health and Business Safety
Federal
State
Local
Legislation of note
Toolkits, Checklists, and more Resources
Washington state Governor's office