West Seattle is accessed from various points—by land and water. Easy access to the City of Seattle metro area, SeaTac airport, the Olympic Peninsula and surrounding cities makes West Seattle ideal for an easy commute to work, travel and leisure.
King County Water Taxi
Metro's passenger-only ferry with direct connection between West Seattle Seacrest Park and Downtown/Pier 50.
Access to the ferry is supported by (free) DART shuttle #773 and bus #775 with Alki, Admiral District, West Seattle Junction and Morgan Junction service routes.
Fauntleroy Ferry
Located at the intersection of Fauntleroy Way SW and SW Barton St. The ferry offers daily service to Southworth and Vashon.
Check website for daily schedule:  wsdot.wa.gov/ferries/schedules 
From Here to There
Mileage and approximate time from West Seattle to...
SeaTac International Airport                                    15 miles 22 mins
Safeco Field & CenturyLink Field                               5 miles 13 mins
University of Washington                                         11 miles 19 mins
Washington State Trade & Convention Center      7 miles 14 mins
Woodland Park Zoo                                                  11 miles 19 mins
Seattle Center                                                              8 miles 16 mins
Green Lake Park                                                        11 miles 19 mins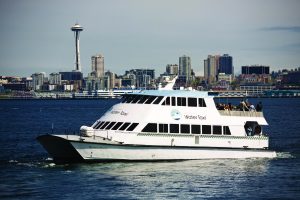 Buses
King County Metro transit provides West Seattle with access to downtown, south Seattle and nearby suburban areas. 
http://metro.kingcounty.gov/   Rider Information: (206) 553-3000
Bus lines serving our region:

---
Bus # / Pick-up & Drop-off
21 / Local Westwood Village, Downtown
22 / Arbor Heights, Westwood Village, Alaska Junction
37 / Alaska Junction, Alki, Downtown
50 / Alki, Admiral, Alaska Junction, SODO, Beacon Hill/VA Hospital, Othello Station
55 / Admiral, Alaska Junction, Downtown
56 / Alki to Admiral to Downtown
57 / Alaska Junction, Genesee Hill, Admiral, Downtown
60 / Westwood Village, Georgetown, Beacon Hill, Broadway
113 / Shorewood, Downtown
116 / Fauntleroy Ferry, Downtown
118 / Tahlequah, Vashon Ferry, Downtown
119 / Dockton, Vashon Ferry, Downtown
120 / Burien TC, Westwood Village, Downtown