West Seattle is Seattle's most desirable neighborhood. Travel by land or enjoy the 15 minute Water Taxi ride. Whether you come for the day or for a lifetime, we welcome you to West Seattle.

Connect to a thriving economy. 
West Seattle businesses range from heavy manufacturing to home office professionals including non-profits, national retailers, and a vast array of family owned businesses. 
We have it all in West Seattle!

West Seattle is an urban gem, home to some of the city's most beautiful parks and spectacular views.

West Seattleites love to take people of all ages on an adventure back in time at our many historical landmarks.

The West Seattle Chamber of Commerce networking opportunities enable you to increase your contacts and build your network to include referrals and advocates, campaigners for your business.

The 2016 Cruise for Commerce was a success!


Thank you

to our sponsors!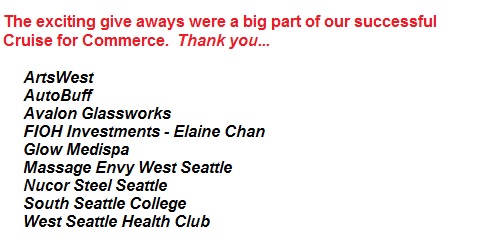 Thank you Patrick Robinson for these amazing pictures!
Government Affairs Committee Update
Your Chamber, Your Leading Advocate!
The mission of the West Seattle Chamber of Commerce is to be the leading advocate for the business community spanning the Greater West Seattle Peninsula.
Together we...
promote sustainable economic growth of a diverse, viable business community
build strong relationships, networks and resources
highlight and take pride in the beauty of our area
strengthen and connect the position of the community as a whole