Grand Opening Ribbon Cuttings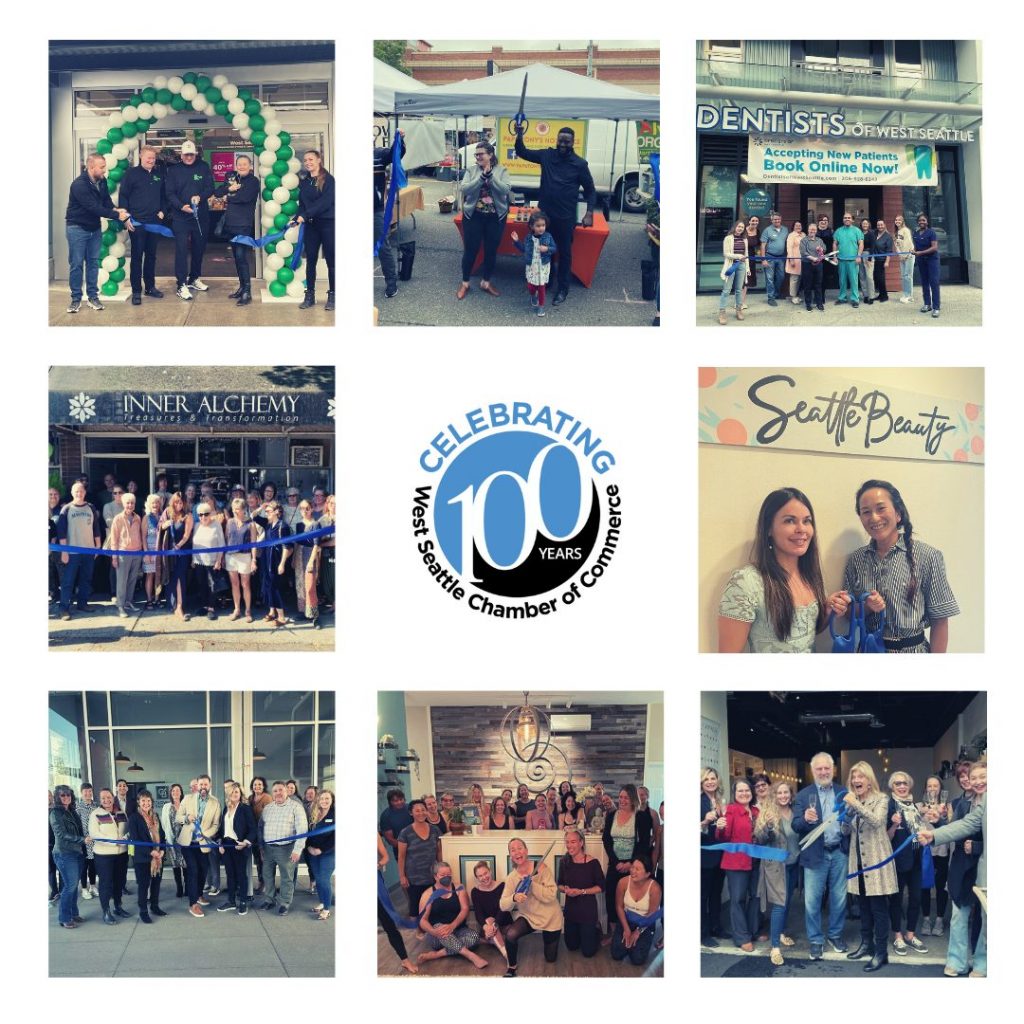 The West Seattle Chamber loves to celebrate new businesses, reopening businesses, relocating businesses and business anniversaries here on the peninsula! One benefit of belonging to the WS Chamber is a ribbon cutting ceremony—book yours today by emailing info@wschamber.com.
What to Do:
Please allow 3 to 4 weeks to organize your event.
Develop an invitation list. Consider inviting friends and family, neighboring businesses, current/potential customers, business associates, suppliers, employees, and elected officials.
To increase awareness about your event, promote it via your social media channels, newsletter, and website.
Additionally, alert local media outlets about your business update. Feel free to use this sample press release to customize and send out. Consider sending to these local outlets:
Promotion by WS Chamber:
WS Chamber will promote your ribbon cutting on the Chamber Facebook, Instagram, LinkedIn and Twitter
WS Chamber will create a Facebook event for the occasion and add you as a co-host
Add your event to our Community Calendar on wschamber.com
We will include your event in our newsletter the week prior or week of the ceremony
After the event, we will share the photos/video on our Facebook, Instagram, LinkedIn and Twitter
What to Expect the Day of Ribbon Cutting:
WS Chamber will provide the ribbon and giant scissors for the photo opportunity
People generally spend 15 to 30 minutes at a Ribbon Cutting
At the designated event date/time, a West Seattle Chamber of Commerce representative will welcome everyone to the event and say a few words.
The WS Chamber representative will acknowledge any local organizations, mayors, city officials, etc. in attendance.
The WS Chamber representative will introduce the business owner.
The business owner will introduce themselves and their staff, give a history and/or description of the business, and invite the attendees to tour/see the facility after the ribbon is cut.
At this time, a WS Chamber of Commerce representative will direct attendees to assemble for photos to be taken and the ribbon cutting. Two individuals will hold the ends of the ribbon in place as everyone lines up for the photo and the ribbon is cut. Multiple photos as well as a short video will be taken. Your guests are also invited to take photos at this time.
After the photo opportunity, everyone is invited to network, tour the facility, and enjoy refreshments (if you elected to have refreshments).
Chamber Members! Are you ready to schedule your ribbon cutting? Reach out to us by emailing info@wschamber.com or calling 206- 932-5685.