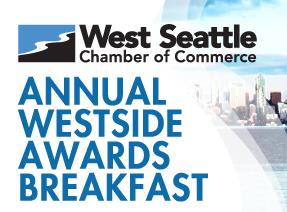 Each year at the Annual Westside Awards Breakfast, we celebrate the successful business environment and community involvement found in West Seattle.  At this event, we honor three local businesses and one individual who demonstrate results oriented leadership, a cornerstone of a thriving economic region.

Westside Business of the Year – Minimum 3 years in business
Westside Emerging Business of the Year – Less than 3 years in business
Westside Not for Profit of the Year
Westsider of the Year
Criteria for the awards include:
Nominees will have made a major or visible contribution in the past year that reflects commercial growth and achievement, innovation, creativity or community involvement.
Contributes and promotes the economic growth, stability and improvement of West Seattle.
Gives generously of themselves and/or staff in time and resources to community activities.
Consistently excels in customer service and business conduct.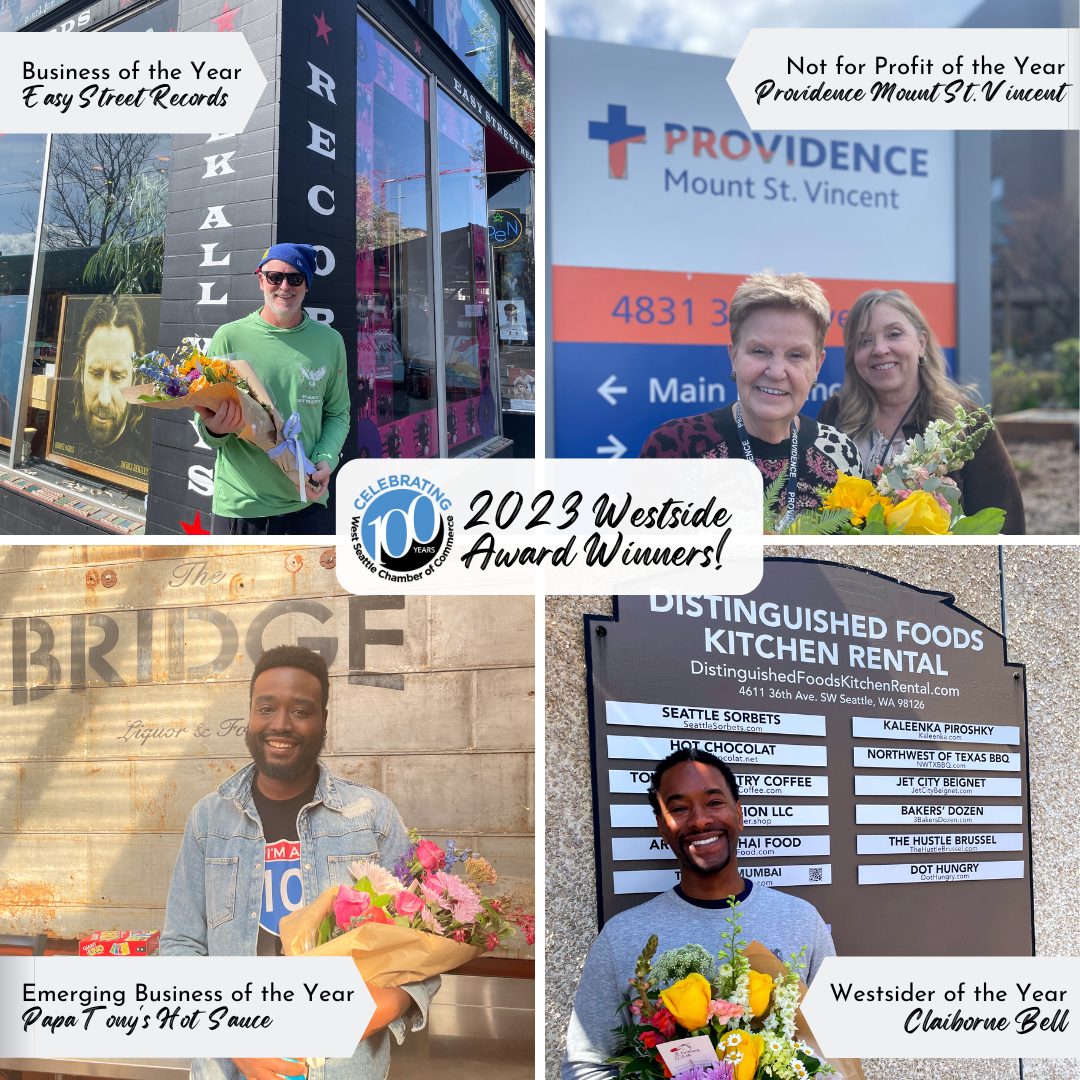 Congratulations to all the Westside Award Recipients!
Westside Business of the Year
2023 Easy Street Records
2022  Circa Grill & Alehouse
2021  Alair Gift Shop
2020  White Center Glass
2019  Alki Lumber
2018  Husky Deli
2017  Eldercare Consulting, LLC
2016  C&P Coffee
2015  Nucor Steel Seattle, Inc
2014  General Biodiesel
2013  Ventana Construction
2012  AmericanWest Bank
2011  Salty's
2010  West Seattle Blog
2009  Elliott Bay Brewing Company
2008  Tom's Automotive
2007  Avalon Glassworks
Westside Emerging Business of the Year
2023 Papa Tony's Hot Sauce
2022  Highland Park Corner Store
2021  Outer Space Seattle
2020  Row House
2019  Verity Credit Union
2018  Alair Neighborhood Gift Shop
2017  Peel & Press
2016  HomeStreet Bank - West Seattle
2015  Meeples Games
2014  Second Gear Sports
2013  Sozo Wines
2012  The Grove
2011  Mountain to Sound Outfitters
Westside Not for Profit of the Year
2023 Providence Mount St. Vincent
2022  Neighborhood House
2021  West Seattle Eagles Aerie #2643
2020  Delridge Neighborhoods Development Association (DNDA)
2019  ArtsWest
2018  Senior Center of West Seattle
2017  Southwest Youth & Family Services
2016  West Seattle Helpline
2015  Southwest Seattle Historical Society, Log House Museum
2014  West Seattle Food Bank
2013  Nature Consortium
2012  West Seattle Garden Tour
2011  West Seattle Farmers Market
Westsider of the Year
2023 Claiborne Bell - Distinguished Food Kitchen Rental
2022  Keith Hughes - American Legion Post No. 160, West Seattle Electric & Solar 
2021  Janice Young - Young's Restaurant
2020  Mary Anne DeVry - Westside Interfaith Network (WIN)
2019  Adah Cruzen - Philanthropist
2018  Lora Swift - Association Executive, Business Owner and Community Leader
2017  Maria Groen - Volunteer, Fundraiser and Philanthropist
2016  Dave Montoure - Co-owner West 5, Past Chair WS Chamber of Commerce, Past President Junction Association
2015  James (Jim) Jackson - Founder of Jackson, Morgan & Hunt, West Seattle & Fauntleroy YMCA Board President
2014  Josh Sutton - West Seattle & Fauntleroy YMCA, Rotary Club of West Seattle and more
2013  Lauren England - West Seattle Bee Garden
2012  Pete Spalding - WS Food Bank Board, Various Neighborhood and District Councils and more
2011  Rick Jump - White Center Food Bank
2010  Coach Colin Slingsby - Chief Sealth International High School Basketball Coach