When you come to West Seattle, you will immediately see that community values reflect our passion for the environment. Local businesses and residents share the sense of awe and collective responsibility to take care of this beautiful place we call home. Lauded by Sunset Magazine as "a laid-back community, rich in forested parks, a community with its own distinctive character," West Seattle is all that— and much, much more.
Almost one-fifth of Seattle's total population resides in West Seattle. The area is home to some of the city's most beautiful parks (and spectacular views!) and a rich cultural heritage that includes live theater, five-star dining and a thriving arts community. It is an urban gem in a naturally beautiful peninsula setting. West Seattleites are known for being politically astute, environmentally conscious, and unabashedly proud of their community, recognized for its green practices, green buildings, and green businesses. Residents in West Seattle enjoy a growing selection of local eco-friendly services and restaurants that walk the talk!
West Seattle's Alki community is home to the west coast's first community wide "Urban Wildlife Habitat" setting a new standard in Puget Sound. Thanks to a city-based organization, Feet First, pedestrian access is available via a peninsula-wide trail system. The system links our resident neighborhoods to business districts and you won't get lost.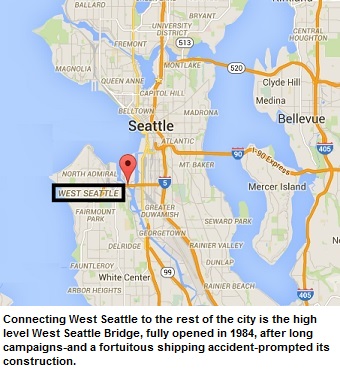 Connecting West Seattle to the rest of the city is the high-level West Seattle Bridge, fully opened in 1984, after long campaigns— and a fortuitous shipping accident—prompted its construction. West Seattle is Seattle's most desirable neighborhood, and it's our people who make it so. Whether you come for a day or for a lifetime, we welcome you to West Seattle!
Connecting to the Community
West Seattle is famous for having that "small-town feeling," which means that residents are involved and active! Residential neighborhoods are varied and distinctive and create the perfect blend here in West Seattle. All offer fine schools, great shopping, green parks and open spaces, easy access to libraries and views of snowcapped mountains and shining waterways that are simply spectacular by any standard.
Admiral— historic and family oriented
Alki— our laid-back beach community
Arbor Heights— away from the hubbub
Delridge— an ethnically and economically evolving family-oriented neighborhood
Fauntleroy— the "end of the line" and historic turn-around point for the old trolley system
High Point— culturally interwoven tight knit community with award-winning community design
Morgan— an attractive community with comfortable setting for daily activities
South Park— a historically hardworking community on the banks of the Duwamish
West Seattle Junction— our urban center and designated as West Seattle's downtown
White Center— a melting pot of cultures and businesses
The Business of Day-to-Day Living!
West Seattle has seven distinct business districts that provide a wide array of goods and services.
Alki – Beachfront restaurants, boutique shopping and outdoor equipment rentals
Admiral – Historic moviehouse, library, restaurants, shops, banking and groceries
Duwamish Industrial Area - Home to one of Seattle's largest industrial corridors and pier/public park space
Fauntleroy – Professional services and restaurants
Morgan Junction – Dining, shopping, groceries and local pubs
West Seattle Junction – Boutiques, dining, live theater, banking, professional and medical services, coffee houses, groceries and farmers market
Westwood Village – National retail center with books, post office, office supplies, clothing, restaurants, massage and dental services
White Center – Diverse array of dining and professional services that reflect a global and LGTBQ-friendly community
Points of Interest in a few of the most visited neighborhoods include:
ADMIRAL – The Admiral neighborhood lies on the northern bluff of the West Seattle peninsula (accurately titled the Duwamish Peninsula, after the local Indian tribe). It is rich in views and lovely, old homes and maintains a lively restaurant trade plus The Admiral movie theater – a fun, retro experience with nautical décor.
Admiral's small, thriving commercial district has a good mix of businesses including a choice of large grocery stores. The Hiawatha Community Center and West Seattle Library are located here. Schmitz Park – 53 acres of never-cut forest – is in Admiral.

ALKI – Noted historically as the landing place of the pioneers, Alki is a beachfront community offering unparalleled views of the Seattle skyline, Elliott Bay and Puget Sound.
Alki offers visitors and residents the opportunity for great dining year round. Sports enthusiasts use the Alki Beach Park area for SCUBA diving, rollerblading, cycling, volleyball, and more. Dog walkers delight in parading their pups on Alki. The Alki Bathhouse is a community art studio. The Alki Community Center provides community meeting (and play!) space. The local community council publishes an e-newsletter: The Alki News Beacon.

DELRIDGE – Delridge is as it sounds – a valley and a ridge – extending to the east along the length of the peninsula. In the valley is beautiful Longfellow Creek, lovingly restored to biological health, with a walking trail alongside. Longfellow runs through the 18 hole, championship West Seattle Golf Course. The ridge has great territorial views of West Seattle, the Duwamish River, South Seattle, and the Cascade Mountains.
Delridge is a neighborhood of neighborhoods, encompassing Cottage Grove, Pigeon Point, Puget Ridge and Riverview, to name a few. It is also home to Westwood Village , the largest regional shopping village within the south Seattle Metro area. The Delridge Library is brand new. The Delridge Community Center , and Westcrest Park – which has a four-acre dog run-free area – are in Delridge.

FAUNTLEROY – On the west side of the peninsula, Fauntleroy is a hillside community with fabulous views of Puget Sound and nearby Vashon Island. The Fauntleroy Ferry Terminal is the eastern terminus of a Washington State Ferry line that goes between the islands and West Seattle.
Fauntleroy is home to Lincoln Park , 135 acres of recreational opportunities including Colman Pool – a heated saltwater pool right next to Puget Sound. Fauntleroy Creek's carefully watched salmon run is a joy to the local community. You might want to check the Fauntleroy Community Association website.

WEST SEATTLE JUNCTION – "The Junction" is where two old streetcar lines once crossed, and is home to a Main Street shopping district that is packed with restaurants and small specialty stores that are destination shops for the rest of the city. Surrounded by single family homes and a fast-growing number of apartments, the Junction is one of West Seattle's liveliest neighborhoods, located right in the heart of West Seattle.
Built atop a hill, even this shopping area has views of Puget Sound and the Olympics in the distance. A fabulous Farmer's Market comes to the Junction on Sundays year round.  In mid-summer, the West Seattle Junction Merchants Association hosts the West Seattle Street Festival . The Junction has a handsome theatre and art gallery belonging to local arts group ArtsWest.
VIDEO: EXPERIENCE THE MAGIC OF WEST SEATTLE  – West Seattle has its own vibe. We are set apart from the rest of Seattle in a very unique way – and it shows through our community, people, and businesses. Set in the heart of West Seattle is the West Seattle Junction: the center of art and commerce for the incredible people that encompass our neighborhood. Whether you're looking to visit, or for a more permanent change of scenery – look no further than the soulful, vibrant community of West Seattle.
Shot & Directed by: Ryan Cory (https://ryancory.com)
Commissioned by: Lora Radford, Executive Director, West Seattle Junction Association (http://wsjunction.org)