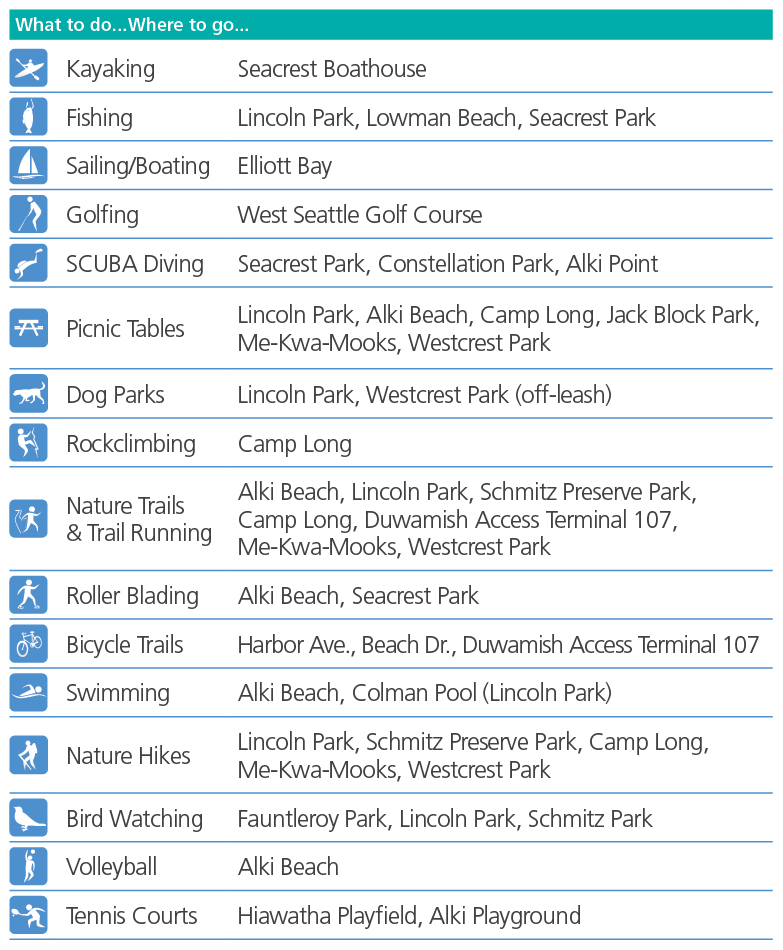 With more than 1,000 acres of park settings in West Seattle, it's difficult to choose where to spend your free time!  Recreational opportunities in West Seattle are available throughout the peninsula:  bicycling, kayaking, fishing, beach volleyball, youth activities and more!
Parks, Trails, Playgrounds, Gardens, Golf Course
The West Seattle peninsula has a region-wide comprehensive trail system connecting our parks, neighborhoods and business districts.  One of Seattle's "Feet First" projects, a map showing close to 100 miles of trails, paths, and staircases helps promote our region's pedestrian friendly environment. Go to www.feetfirst.org for West Seattle and other area maps.
Alki Beach Park – 136 acres.  Waterfront activities, picnic areas and famous viewpoints.
Bar S Playground – 4.2 acres. Baseball/Softball fields.
Camp Long – 55 acres.  Trails, paths, a climbing rock, reservable picnic areas, overnight cabin camping, and challenge courses.
Constellation Park/Charles Richey Sr. Viewpoint – 9.9 acres.  Boat launch, scenic views and waterfront access.
Cormorant Cove – Less than 1 acre.  Boat launch (hand carry), scenic views and beach access.
Delridge Playfield – 14 acres. Community center, full basketball court, tennis court, wading pool, picnic area, playground, soccer field, baseball/softball field, skate park.
E.C. Hughes Playground – 6.3 acres.  Basketball courts, wading pool, soccer fields, baseball/softball fields.
Fairmount Playfield – 5 acres.  Playfields and children's area.
Hamilton Viewpoint – 16.9 acres. Stunning views of the city, Elliott Bay, the harbor and Cascade Mountains, Hamilton Viewpoint showcases Seattle's urban and natural beauty.
Hiawatha Playfield – 10 acres.  Basketball, soccer, tennis and a wading pool.
Highland Park Playground – 6.4 acres. Tennis court, wading pool, picnic area, playground, soccer field, baseball/softball field, t-ball area.
Jack Block Park – 15 acres.  Interpretive information, picnic tables and scenic overlook.
Junction Plaza Park – .15 acres.  A respite in the heart of the bustling center of the Junction commercial district.
Lincoln Park – 127 acres.  Beach access, picnic areas, wading pool, Colman saltwater pool, children's play areas, soccer fields, baseball/softball fields, horseshoe pits, hiking trails.
Longfellow Creek – 4.2 mile walking trail.
Lowman Beach Park – 4.1 acres. Boat launch (hand carry), playground, tennis court, views of waterfront.
Me-Kwa-Mooks – 17 acres.  Picnic tables and trails.
Morgan Junction Park – 1.5 acres.  A pleasant plaza in the Morgan commercial district.
Puget Park – 158.6 acres. Hiking trail through the West Duwamish Greenbelt.
Riverview Playfield – 42.3 acres. Full basketball court, playground, tennis court, soccer field, baseball/softball field.
Roxhill Park – 13 acres.  Children's playfields and wetlands.
Schmitz Preserve Park – 53 acres.  Old-growth forest with trails, woods and creek.
Seacrest Park – 7 acres.  Paths and boat launch.
Seattle Chinese Garden – 4.6 acres.  The garden is open daily, dawn to dusk; the courtyard is open Tue - Sun, 11am - 5pm; FREE.  For more info, call (206) 282-8040 or visit www.seattlechinesegarden.org.
Solistice Park – 7.17 acres.  Tennis courts and trails.
South Park Playground – 5.6 acres. Community center, playground, tennis court, wading pool, soccer field, baseball/softball field.
Steve Cox Memorial Park - 11.55 acres. Community center, basketball courts, soccer field, tennis courts, playground, picnic areas, reflexology walking path.
Walt Hundley Playfield – 11.2 acres. Community center, tennis court, playground,  soccer field, baseball/softball field, flag football field.
Weather Watch Park – Less than 1 acre.  Scenic views and beach access.
West Seattle Stadium – 11.6 acres. Historic stadium with a football field, running track, and two sets of stands.
Westcrest Park – 81 acres.  Picnic tables, off-leash dog park, children's play area and trails.
West Seattle Golf Course – Opened in 1940, this is one of Seattle's most scenic and challenging 18-hold courses. For more info, call (206) 935-5187. http://premiergc.com/-west-seattle-golf-course