West Seattle Welcomes You Back!
 Whether you take the West Seattle Bridge or try a different route, we hope you visit our neighborhoods, parks, beaches, recreation, restaurants, businesses and shops. As a reminder, the best views of Seattle are from West Seattle. Come take a look.
The Route We'll Never Take Again
And 12 other ways to reach West Seattle
The Low Bridge
Officially known as the Spokane Street Swing Bridge, this drawbridge underneath the repaired high-level West Seattle Bridge is once again open to all vehicles. To our infuriation, it had been restricted to freight, transit, and emergency vehicles during high-level bridge repair. Pedestrians, cyclists, razor scooters, and skaters also use this route. No pedestrians or cyclists are allowed or advised on the high-level West Seattle Bridge.
King County Water Taxi
A slick boat provides the quick trip between downtown Seattle's Pier 50 and West Seattle's Seacrest Park for walk-on passengers and cyclists. Dogs are allowed on the Water Taxi, so bring the pups to enjoy our parks and views. The Seacrest Park pier is on the Alki Trail, a recreational path which wraps around our peninsula to Alki Beach.
More info at https://kingcounty.gov/depts/transportation/water-taxi/west-seattle.aspx
West Marginal Way
West Seattleites became familiar with this industrial corridor during bridge repair. The north-south arterial parallels the Duwamish River between Spokane Street (under the West Seattle Bridge) to the South Park neighborhood of Seattle, at Highways 99 and 509.
First Avenue South Bridge
Southbound out of downtown, First Avenue shoots through Pioneer Square, past sports stadiums, through an industrial district, crosses the Duwamish River (drawbridge) and meets West Seattle at West Marginal Way and Highway 509. As a former detour route, many West Seattleites hope to never take this way home again.
Highway 509
This freeway adjacent to SeaTac is a convenient route from the airport into West Seattle by using the Highland Park or West Marginal Way exits. Don't miss them.
Highway 99
This is a north-south alternative to I-5 on the west side of downtown Seattle. Coming from the north, a toll tunnel whisks drivers underneath downtown, surfacing two miles before the West Seattle exits. Coming from the south, Highway 99 enters West Seattle via Highland Park Way or West Marginal Way.
Share-In
Bike share, scooter share, ride share, car share, yard share … they all serve West Seattle.
Boat-In
Don Armeni Boat Ramp is located on Harbor Avenue overlooking Elliott Bay and downtown Seattle. Non-motorized paddlers can come ashore on many hand-carry boat access beaches around the West Seattle peninsula.
More info at https://www.seattle.gov/parks
The 560
Yes! You can take a county bus from the airport. Metro Transit route 560 serves Bellevue, WA to Westwood Village in West Seattle with stops at SeaTac Airport Terminal Bay 2 and SeaTac Station.
From Here to There
Mileage and approximate time from West Seattle to...
SeaTac International Airport                                    15 miles 22 mins
Safeco Field & CenturyLink Field                               5 miles 13 mins
University of Washington                                         11 miles 19 mins
Washington State Trade & Convention Center      7 miles 14 mins
Woodland Park Zoo                                                  11 miles 19 mins
Seattle Center                                                              8 miles 16 mins
Green Lake Park                                                        11 miles 19 mins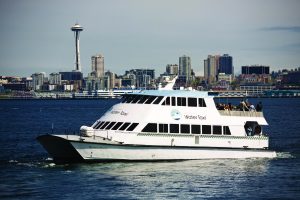 Buses
King County Metro transit provides West Seattle with access to downtown, south Seattle and nearby suburban areas. 
http://metro.kingcounty.gov/   Rider Information: (206) 553-3000
Bus lines serving our region:

---
Bus # / Pick-up & Drop-off
21 / Local Westwood Village, Downtown
22 / Arbor Heights, Westwood Village, Alaska Junction
37 / Alaska Junction, Alki, Downtown
50 / Alki, Admiral, Alaska Junction, SODO, Beacon Hill/VA Hospital, Othello Station
55 / Admiral, Alaska Junction, Downtown
56 / Alki to Admiral to Downtown
57 / Alaska Junction, Genesee Hill, Admiral, Downtown
60 / Westwood Village, Georgetown, Beacon Hill, Broadway
113 / Shorewood, Downtown
116 / Fauntleroy Ferry, Downtown
118 / Tahlequah, Vashon Ferry, Downtown
119 / Dockton, Vashon Ferry, Downtown
120 / Burien TC, Westwood Village, Downtown