West Seattle is home to a thriving and "cutting edge" artistic community. There is never a shortage of opportunity to stretch your imagination. As the "Birthplace of Seattle," West Seattle is creating new and amazing opportunities to embrace our local arts and heritage.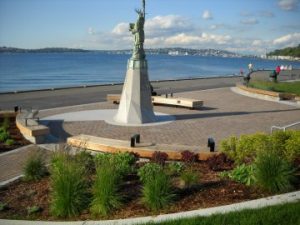 Alki Point Lighthouse—Built in 1913, the lighthouse is a landmark of West Seattle history. The lighthouse is maintained by the Coast Guard and is open on summer weekends. For more information, call the Coast Guard Museum in Seattle (206) 217-6993.
Birthplace of Seattle Monument— The monument was dedicated in 1905 and it lists the names of the city's first settlers. Located at Alki Ave. SW and 63rd Ave. SW.
Constellation Park and Marine Reserve Art—"Avenue of Stars", by Lezlie Jane, is a series of 13 images embedded in the park walkway. Each image represents one of the 13 constellations visible in the western sky. Located on the 6300 block of Beach Drive SW.
Log House Museum—This 1904 log building operated by the Southwest Seattle Historical Society is home to exhibits, programs and the beloved and newly restored 20-foot totem pole that previously stood for 40 years at Belvedere View Point Park on Admiral Way. Museum is open Noon–4 pm, Thursday–Sunday.
Luna Girls—The Luna Girls sculpture, by Lezlie Jane, welcomes visitors to Seacrest Park and the waterfront Alki Trail. These three charming young ladies, in 1920's beach attire, perched elegantly on life-rings are designed as a celebration of joy.
Sentinels of the Sound—Walking Alki Beach you will see "Sentinels of the Sound," a sculpture by Georgia Gerber, featuring a harbor seal mom and pup who remind us we have a fragile ecosystem. Our hope is to raise community consciousness about the importance of protecting our marine environment.
Statue of Liberty on Alki Beach— A tribute to the original Statue of Liberty in New York, approximately 100 of the "Little Sisters of Liberty" remain intact throughout the U.S. The Alki statue was originally donated in 1952 by the Seattle Council of Boy Scouts. A new statue was recast and dedicated to the community September 2008.
"Walking on Logs" Sculpture—by Phillip Levine, 1996. Frequently adorned by locals, the four bronze child-like statues balance on wood logs. Located on the west side of the West Seattle Bridge.
West Seattle Murals—Eleven inspiring works of art created by world-famous muralists adorn the walls of the West Seattle Junction (and one in Morgan Junction), depicting the history of the area. Topics range from ferry boats and streetcars to business districts to "the old swimming hole" that pre-dated Lincoln Park's Colman Pool.