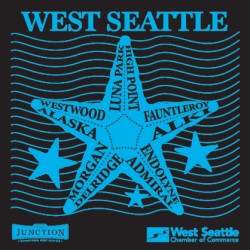 Swag Bags for
New WS Residents
In November, 800+ Swag Bags will begin to be delivered to new residents on the West Seattle Peninsula, and will continue to be delivered to future new residents while supplies last. Our objective of the Swag Bag delivery is to increase new resident awareness of the business nodes across the peninsula.
You can read more about the program and register your business here:
https://wsjunction.wufoo.com/forms/z1y5z45k02rawde/
Deadline to participate is November 1.
HOW CAN YOU PARTICIPATE?
Purchase a coupon or awareness ad in the "Get to Know the Locals" booklet
Why

be a West Seattle Chamber member?
Why the Chamber? (you may know many of these people)

Reciprocal Membership with Metro Seattle Chamber
Contact Lynn Dennis to determine if a membership would be of value to your business.
Your Chamber, Your Leading Advocate!
The mission of the West Seattle Chamber of Commerce is to be the leading advocate for the business community spanning the Greater West Seattle Peninsula.
Together we...
promote sustainable economic growth of a diverse, viable business community
build strong relationships, networks and resources
highlight and take pride in the beauty of our area
strengthen and connect the position of the community as a whole